Gushi Tools Celebrating 15th Anniversary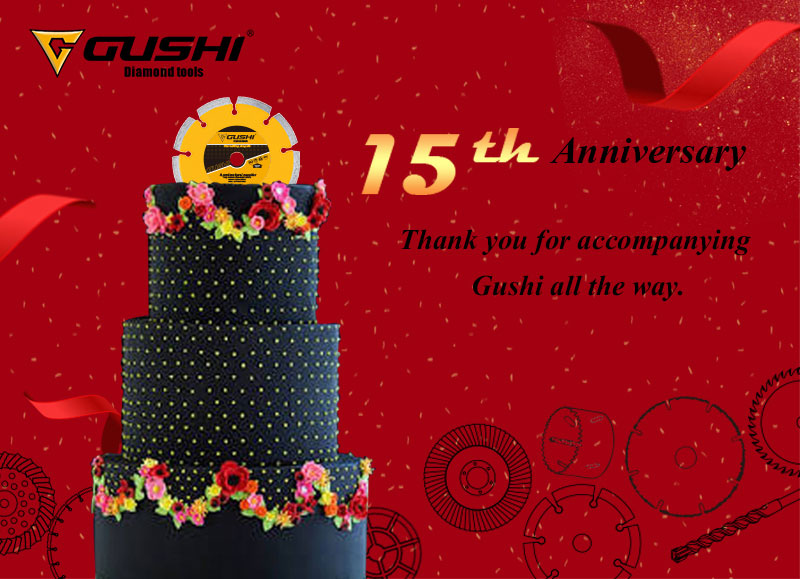 Time flies, the years go by, the year is just a moment in the long river of history, it is so magnificent. One year, we have accumulated valuable wealth; One year, we have shouldered heavy responsibility; Another year, we watch the brilliant future.
Gushi tools originated in 1998. We specialized in researching, designing and manufacturing various types of diamond tools for concrete, stone and other masonry materials. In 2004, Huzhou Gu's Imp. & Exp. Co., Ltd was formally established and started export business.
We have cooperated with customers from some 50 countries. We are dedicated ourselves to providing customers with high quality products and favorable prices.
Druing the 15 years, Our customers and partners witnessed the growth, progress and development of Gushi. While our business scope has been continuously expanding. The company's development relies on integrity management, product quality assurance, and professional services. Faced with fierce competition in the market and rising pressure on raw materials, we still use higher quality raw materials, continuously improve the process to reduce the overall cost of the product, and supply better service to our customers.
We are honored to be able to form partnerships with our customers and supplier to achieve mutual benefit and common development. In the days to come, we hope that everyone will continue to care for and support our company, and we also hope we can work together and make progress together all the way.
In addition, the company's development is also inseparable from the hard work of employees. Our employees are full of enthusiasm to look forward to the future development of the company. The history of Gushi is uncovering the most touching chapter since its inception.
In the future, Gushi tools will provide customers with better products and better service. Our products include laser welded blades, brazed blades, hot pressed blades, cold pressed sintered blades, core drill bits, grinding cup wheels, drill bits, grinding stones, abrasive grinding wheels, cut off discs, abrasive paper and TCT saw blades.
Thanks a lot for all!