Gushi Will Attend the IIHT 2019 India's Hand Tools & Fastener Expo
Gushi Will Attend the IIHT 2019 India's Hand Tools & Fastener Expo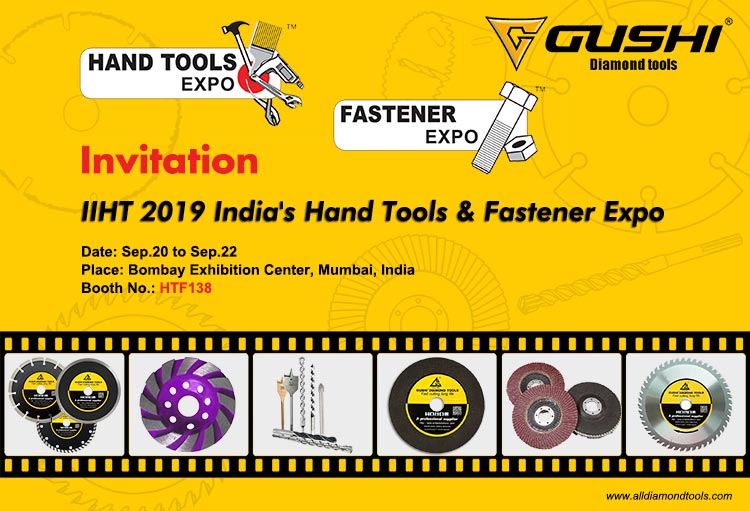 Huzhou Gu's Imp. & Exp. Co., Ltd., a leader in diamond tools, today announced that it will present at Hand Tools & Fastener Expo 2019 on september 20-22.
Our products are:
Cutting: All kinds of diamond blades(for stone and construction industry), TCT saw blade, grass cutter, abrasive cut off wheel, jig saw blade, reciprocating saw blade, etc.
Grinding/Polishing: Diamond cup wheel, trapezoid, diamond grinding shoes, polishing pad, grinding stone, flap disc, abrasive grinding wheel, sanding paper, fibre disc, felt pad, etc.
Coring/Drilling: All kinds of drill bits such as HSS drill bits, wood drill bits, masory drill bits, SDS drill bits, glass drill bits, diamond core drill bits, hole saw, etc.
Our booth number is HTF138. At this exhibition, we will exhibit competitive new products and regular products with good price.
Hand Tools & Fastener Expo(HTF) is the largest and only niche event for Hand Tools, Power Tools, Fasteners in India. HTF 2019 will be held during 22 - 22 September 2019 at the imposing Bombay Exhibition Centre, Mumbai, India.
Welcome to visit us!