Gushi to Present at EXPO NACIONAL FERRETERA 2019 in Mexico on September 05-07
Gushi to Present at EXPO NACIONAL FERRETERA 2019 in Mexico on September 05-07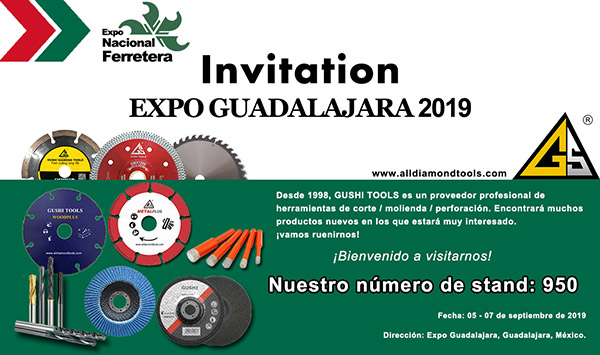 As a leading exhibition for hardware and construction industry in Latin America,Here will be thousands of world-class traders and dealers from the international arena. Gushi Tools will present at the exhibition in guadalajara mexico with competitive new products of diamond tools.
GUSHI is a manufacturer and marketer of superior diamond cutting & grinding tools since 1998. We devote ourselves into researching, designing and manufacturing various types of diamond tools and quality service.
GUSHI product selection includes diamond saw blades, diamond core drill bits, flexible polishing pads, cup wheel, grinding wheel, router bits & profile, TCT saw blade, drill bits, abrasive tools and small construction machinery, etc.
Our booth No.:950

Welcome to visit us, You will find many new products that you will be very interested in.