Dekton Bridge Saw Blade
The Dekton Blade has a technology advanced core designed to minimize the often loud, fast cutting style of a normal bridge saw blade. This hardened steel core was manufactured to prevent high noise levels associated with a blade of this size. Along with a newly developed bonding system, narrowing the segmented slots to minimize chipping on the required cuts to keep those sharp edges.
Features:
The blade is available in sizes 12, 14, 16 & 18 and designed for the cutting of Dekton, which is made from blends of various raw materials. such as, high quality glass, porcelain, and natural quartz. The final product is a ultra-compact surface resistant to scratching and abrasions.
Used for high quality Dekton

Fast cutting, chip free cutting

Advanced core reduces noise levels when cutting

10mm segmented height

Comes equipped with a 60 mm arbor and comes with a 50 mm adapter
Specification:
Item No.

Size

Thickness

Maximum RPM

Arbor(s)

For Use On

12SLWD

12 inch

2.2mm

6,200 RPM

60mm, 50mm

Bridge Saws

14SLWD

14 inch

2.8mm

4,365 RPM

60mm, 50mm

Bridge Saws

16

SLWD

16 inch

3.3mm

3,820 RPM

60mm, 50mm

Bridge Saws

18SLWD

18 inch

4.4mm

3,395 RPM

60mm, 50mm

Bridge Saws
Products Details: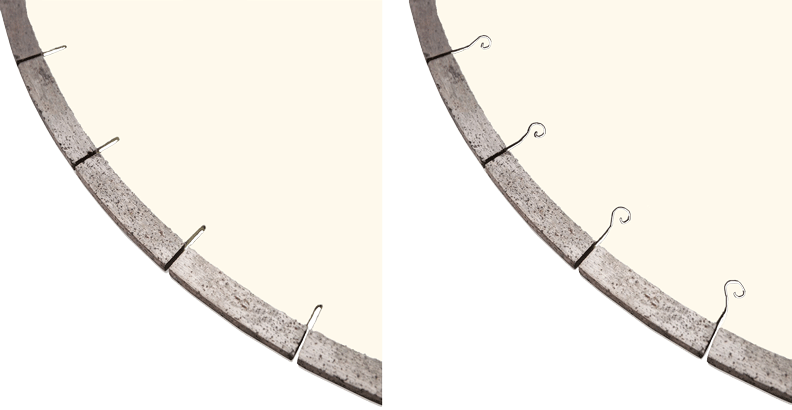 Professional Sales Service
1.Professional Reply
●Professional consultation service is available within 24 hours;
●Independent marketing model for different regional
2. Quality ensure Policy
●AQL2.5 standard
●Testing Each Production Process
●Independent production batch number within service system for customers check;
●Keeping Bulk sample of each batch for comparing;
●Global insurance service guarantees the safety of items when installation and application;
3. Customers Protective Policy
●Any quality problem caused by our company side with enough evidence, we promise return & exchange policy 100%