What Blade to Cut Fiber Cement?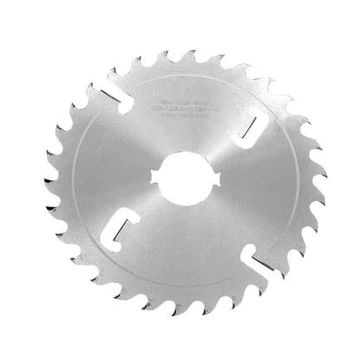 Cutting fiber cement, a durable and versatile building material, requires the use of specialized blades due to its composition and characteristics. Fiber cement consists of a mixture of cement, cellulose fibers, sand, and other additives, making it highly abrasive and challenging to cut using regular blades. Whether you're working on siding, roofing, or other construction projects involving fiber cement, selecting the right blade is essential for achieving clean and accurate cuts while minimizing dust and potential health hazards. Here are some key considerations and blade options for cutting fiber cement:
1. Carbide-Tipped Blades: Carbide-tipped blades are widely considered the best choice for cutting fiber cement. Carbide is a durable and heat-resistant material that can withstand the abrasive nature of fiber cement. The carbide tips on the blade's teeth provide superior cutting performance and extended blade life.
2. Polycrystalline Diamond (PCD) Blades: PCD blades are another excellent option for cutting fiber cement. PCD is a synthetic material known for its hardness and wear resistance. PCD blades feature diamond-tipped teeth that provide exceptional cutting efficiency and longevity. PCD blades are particularly effective for high-production cutting operations involving fiber cement.
3. Fiber Cement Blades: Some manufacturers offer specialized fiber cement blades designed specifically for cutting this material. These blades often feature a unique tooth geometry and construction optimized for fiber cement cutting. They may include features such as anti-vibration slots to reduce noise and prevent blade warping.
4. Blade Tooth Configuration: Blades for cutting fiber cement typically have a specific tooth configuration that reduces dust and minimizes the chance of chipping or cracking the material. Alternate Top Bevel (ATB) and triple-chip tooth patterns are common configurations used to achieve clean and precise cuts.
5. Dust Collection: Cutting fiber cement generates a significant amount of dust, which can be harmful if inhaled. Some blades come with built-in dust collection features, such as expansion slots and channels that direct dust away from the cutting area. Additionally, using a dust extraction system or wearing appropriate personal protective equipment (PPE) is essential to minimize exposure to dust.
6. Blade Size and Speed: When choosing a blade size, consider the thickness of the fiber cement material and the tool you're using. Blades come in various diameters, and using the right size ensures optimal cutting performance. Additionally, follow the manufacturer's recommended speed settings for your specific blade to avoid overheating and premature wear.
7. Tool Compatibility: Ensure that the blade you choose is compatible with the tool you're using. Fiber cement can be cut using tools such as circular saws, miter saws, table saws, and specialized fiber cement shears. Each tool may require a blade with specific dimensions and features.
8. Safety Precautions: Cutting fiber cement can generate fine dust particles that may contain crystalline silica, a hazardous substance. To protect your health, work in a well-ventilated area, wear appropriate respiratory protection, safety glasses, and other PPE as recommended. Minimize dust exposure by using blades with dust collection features and employing proper dust control measures.
In conclusion, cutting fiber cement requires specialized blades that can withstand the abrasive nature of the material while minimizing dust generation. Carbide-tipped and PCD blades are recommended for their durability and cutting efficiency. When choosing a blade, consider factors such as tooth configuration, dust collection features, tool compatibility, and safety precautions. Following manufacturer guidelines and employing proper safety measures will help you achieve accurate cuts in fiber cement projects while ensuring your health and well-being.