Can You Cut Aluminum With a Wood Blade?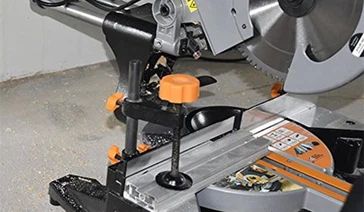 It is always recommended to use the correct tool made for the specific material. This is why many people hesitate to use a wood blade to cut aluminum, since aluminum is a stronger metal than wood. However, if proper precautions are taken, wooden blades can be used.
Cut aluminum with miter saw and wood blade
Can I use a miter saw to cut aluminum? You can cut aluminum with a miter saw using a non-ferrous cutting blade. Miter saws are a good choice for cutting aluminum profiles, channels, pipes, and more.
But can you use the wood blade on a miter saw to cut aluminum?
Aluminum has excellent machinability and is relatively easy to cut. You can use a wooden blade with lots of teeth to cut aluminum.
It should be noted that most brands of wooden blades are strong enough to cut non-ferrous materials. You can even find special grades of carbide designed specifically for cutting aluminum. But if you plan to use a wooden blade, you need to consider the TPI or the number of teeth of the blade.
Aluminum wood blade
The key is the number of teeth on the blade. The higher the tooth count (the higher the TPI), the smoother the cut will be. Lower TPI blades have deeper gullets and larger-sized teeth. These will grab the edge of the aluminum channel and pull the workpiece towards the blade.
When cutting aluminum smaller than 1/16 inch, you'll want to use a blade with more than 10 teeth per inch of diameter. This means if you have a 12-inch miter saw, use a 120-tooth blade.
10 (TPI) x 12 (blade diameter in inches) = 120
In fact, many companies make wooden blades with many teeth (up to 200) just for this purpose.
If the aluminum is thicker, such as 1/8 inch, you will need to use a blade with 10 teeth per inch of diameter. For 1/4-inch thickness, the number of teeth is reduced to 8 per inch of diameter. For aluminum thicker than a quarter-inch, the limit is 6 teeth per inch.
Can I use a cutting saw to cut aluminum?
Speaking of chop saws, if you mean miter saws, then yes. You can cut aluminum on a chop saw (miter saw) using a non-ferrous cutting blade.
Do not use the abrasive disc to cut aluminum on a metal cutting saw. Aluminum can clog the abrasive cutting disc, causing excessive heat, which may eventually break the disc.
Cutting aluminum with circular saw
When it comes to cutting large aluminum panels, a miter saw is not an option. In this case, a circular saw or jig saw with a metal cutting blade is the best option.
You can cut aluminum using a circular saw with a non-ferrous metal circular saw blade or a fine carbide wood blade. When you use a handheld circular saw to cut aluminum, take your time. If the cut isn't perfectly straight, it will get stuck between the metal. When this happens, release the trigger and pull the saw back a bit. Start the saw again with slow feed and allow the blade to cut.
Aluminum cutting tips
Fixed workpiece
The most important tip when cutting aluminum with a wood blade is to take proper safety precautions. This means making sure the material is secured correctly.
In woodworking, you hold the workpiece with your hands and make cuts on a miter saw. However, aluminum tends to stick to the blades and can be dangerous. It's best to use multiple clamps so the aluminum stays in place.
Wear personal protective equipment
As a general safety rule, you should wear eye protection and clothing that is relatively close to your skin. Loose clothing may get caught if you are too close to the blade as it moves. Also, remove any jewelry or rings that may be caught on the blade. This means you should not wear loose-fitting gloves as this may catch the spinning blade.
Watch out for strips of material that stick to the cut edges. They are sharp and may cut your fingers.
Cut off parts
One of the most dangerous aspects of cutting aluminum is the high momentum pulling the cut portion toward the blade. Serious injury could result if cut pieces fly toward your face.
Unlike goggles, you can wear a full safety mask or shield to protect your face and neck. You can also clamp a piece of wood to the cut side of the workpiece to avoid it being pulled by the blade.
Use cutting oil
The use of cutting oil is another important aspect when cutting aluminum. The biggest danger is that the saw can snag or catch the material, causing it to break. If this happens, anyone standing nearby could be hit by shrapnel from the blade or aluminum coming off at high speed.
I highly recommend clamping your aluminum workpiece securely before attempting to cut it.
Be sure to lubricate the blade with a low-viscosity cutting oil to prevent it from getting covered in debris or sticking to the aluminum itself. I use WD-40 and find kerosene and paint thinner also work well.
Lubrication not only reduces the chance of splitting, it also keeps the blade and aluminum cool, preventing overheating.
Use a thin blade
Make sure the wood blade you use is a thin blade with lots of teeth for cutting aluminum. Keep plenty of lubricant on hand and allow the blade to cool slightly between cuts. This will help keep the material intact and reduce the chance of injury.
What is the best saw blade for cutting aluminum?
The best blade for cutting aluminum is a fine-toothed nonferrous blade.
Keep in mind that the blade should be suitable for cutting non-ferrous materials and have the right number of teeth for the thickness of the aluminum.