Skills in Wood Polishing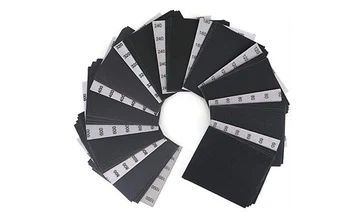 Sanding is a very important task in paint application.
Sanding, also known as polishing, is divided into two methods: using sandpaper, water sandpaper, iron sandpaper, pumice, fine stone powder and other abrasive materials to polish the surface of wood products to make the surface smooth and remove the wood surface. Dust particles and bubbles on the surface of the hair and coating film are sanded and roughened. Its main functions are decontamination, leveling, color correction, polishing, and roughening (to improve the adhesion of the coating).
Polishing methods include dry grinding, water grinding, oil grinding, wax grinding and toothpaste polishing.
Dry grinding is divided into rough grinding, flat grinding and fine grinding. Rough grinding is generally used to remove wood hair, scars, glue marks, pencil marks, etc. during pretreatment of white wood.
Flat grinding is generally done by wrapping a small piece of wood or hard rubber with emery cloth or sandpaper to grind the large surface, so that the leveling effect is better. Fine grinding is generally used for scraping putty, sealing paint, color matching, complementary colors, etc. Sanding requires careful attention during processing.
Water polishing involves using sandpaper dipped in clean water (or soapy water) for polishing. Water grinding can reduce wear marks, improve the smoothness of the coating, save labor and sandpaper.
Commonly used sandpapers in construction include wood sandpaper, water sandpaper, iron sandpaper, etc.
Generally, partially filled putty should be sanded with No. 1 or No. 1 wood sandpaper; No. 0 sandpaper should be used for the scraped putty and primer layers, and finer No. 00 sandpaper should be used for the middle layer of paint.
Some paint films are dry sanded with sandpaper. Friction and heat will soften and damage the paint film. In this case, wet sanding should be performed using water sandpaper.
Before wet sanding, first soak the water-based sandpaper in water, then wrap it around a neatly folded cloth, then dip it in soapy water and polish the paint film so that the water-based sandpaper is wrapped around the outside of the cloth. Cloth to expand the sanding area is also used to generate force.
In order to improve work efficiency, electric grinders can also be used for large-area grinding construction. Generally, there are disc type, vibration type, belt type and roller type.
When polishing, pay attention to the following points: white blanks, plain wood, furniture, musical instruments, handicrafts, etc. that have not been painted with any paint, wipe them clean with a damp cloth before polishing, and use No. 1 sandpaper to polish them smooth after the water dries. Wood grain polishing (note that the wood grain must be smooth);
Where the wood is not flat enough, you can sand it with sandpaper wrapped in a small piece of wood or hard rubber. Do not polish vertically or horizontally, otherwise the wood grain will crack and the painted furniture will be left with permanent blemishes;
When polishing the edges and corners, be careful to grind them lightly. The edges and corners must not collapse and the original round or square outline must be maintained. Decorative lines must be kept straight and must not be bent, broken or deformed;
When sanding, dust should be brushed away. Since wood sandpaper grit easily comes off, rubbing the surface may remove the wood grain.
In addition, dust from sanding can easily become embedded in the bristles. Therefore, when sanding, you must use a dry brush to remove dust at all times and brush the edges until the surface is smooth and flat;
When polishing the surface of thick putty, you must adhere to the principle of "based on the height and smooth it with a plate", and avoid blind polishing when polishing;
The closer the paint layer is to the surface, the higher the quality requirements. The sandpaper used when sanding should be finer. Sometimes you can use old water sandpaper to sand it, which saves money and does not damage the paint film.
Depending on the object, polishing can be divided into white blank polishing, putty polishing, primer polishing, topcoat polishing and polishing polishing.
The main purpose of polishing white blanks is to remove contamination and level them. Generally, sandpaper with coarser grit (such as 240#, 320#, etc.) is used to polish along the direction of the wood grain. Do not sand horizontally or irregularly to avoid leaving messy sand marks.
When polishing the white blank, it is also necessary to pay attention to the protruding parts such as lines and tile corners not to be damaged or deformed, so as not to affect the smoothness and beauty of the lines and tile corners. Putty polishing requires smoothness and no defects, and the polished lines must be consistent with the lines of the white blank. Therefore, spacers such as wooden blocks are often used when polishing straight surfaces.
When polishing the putty on the clear coat, be careful to polish the putty around cracks, nail holes, etc. without leaving any traces.
Primer polishing, including sealing primer polishing and mid-coat polishing. The polishing of the closed primer before coloring is mainly to remove wood burrs, generally using 320#-400# sandpaper. In order to make the coloring uniform, this kind of grinding requires light and even grinding, otherwise it will cause uneven coloring.
Polishing of the intermediate coating (also called interlayer polishing) can remove dust particles, bubbles, orange streaks, sags caused by improper operation, etc. on the surface of the film, and can also increase the adhesion between coatings.
For inter-layer polishing, you can choose 320#-600# sandpaper as needed. The quality requirements are smooth, no bright stars, no sand marks as much as possible, and the surface is frosted glass. The polishing of the topcoat requires no bright stars and no obvious sand marks. Do not wear topcoat through. Generally, 600#-1000# sandpaper is used for polishing.
Polishing generally uses water grinding. First use 800#-1000# sandpaper to remove bright stars, and then use 1500# sandpaper to lightly polish the marks. Therefore, for sanding methods, we must study how to effectively perform a high-quality manual operation, or perform sanding work with the help of pneumatic tools or some simple electric equipment.