What is The Difference Between The Number of Teeth of a Saw Blade?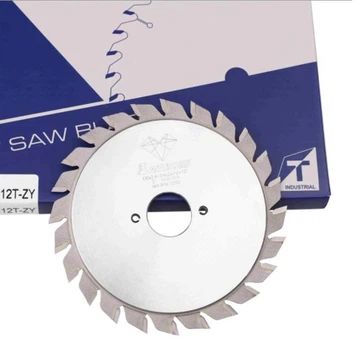 When using a saw blade, you will find not only the size of the saw blade, but also the number of teeth of the saw blade of the same size. Why is it designed like this? How many or less is better?
In fact, the number of teeth depends on whether the wood you are cutting is cross-cut or length-wise. The so-called longitudinal cutting means cutting along the direction of the wood grain, and cross cutting means cutting at 90 degrees to the direction of the wood grain.
We can do an experiment and use a knife to chop wood. You'll find that most cross cuts are in the form of granules, while lengthwise cuts are in the form of strips. Wood is fibrous in nature. This result is also reasonable.
For multi-tooth saw blades, you can imagine cutting with multiple knives at the same time. The cut is smoother. After cutting, observe that there are dense tooth marks on the cutting surface, the saw edge is smooth, fast and easy to stick to the saw (that is, the hair on the saw teeth is black), and sawdust is excreted slowly. People with fewer teeth. It is suitable for scenes with high cutting requirements. The cutting speed should be slowed down appropriately and suitable for cross-cutting.
It has fewer saw teeth, rough sawing surface, large tooth mark spacing, and fast sawdust removal speed. It is suitable for rough processing of softwood and has fast sawing speed. Slitting has advantages.
If a multi-tooth cross-cutting saw blade is used for longitudinal cutting, the large number of teeth can easily lead to poor chip removal, and the speed is fast, which may cause saw breakage or saw clamping.
When sawing occurs, danger can easily arise.
For artificial boards such as plywood and MDF, the direction of the wood grain has been artificially changed after processing, and the forward and reverse cutting characteristics have been lost. When cutting, use a saw blade with more teeth, slow down and move smoothly, while using a saw blade with fewer teeth will have much worse results.
If you are cutting wood grain beveled, it is recommended to use a multi-tooth saw blade. Saw blades with fewer teeth may pose safety risks.
To sum up, if you encounter the problem of how to choose a saw blade in the future, you can make more bevel cuts and choose your own cutting direction for cross cutting to decide what kind of saw blade to use. Choose multiple teeth for bevel and cross cuts, fewer teeth for longitudinal cuts, and cross cuts for mixed wood grain structures.