Wall saw blade
Wall saw blade is designed for cutting heavy duty wall material. The sandwich segment and silent core could reduce the noise efficiently.
Segmented saw blade for wet cutting cured concrete wall,and brick wall with perfect performance.Silent core is available.
Designed to provide fast, smooth cutting in a variety of materials, including brick wall/concrete wall

Sintered diffusion bonded.

Can be used wet

.
Segment Detail Pictures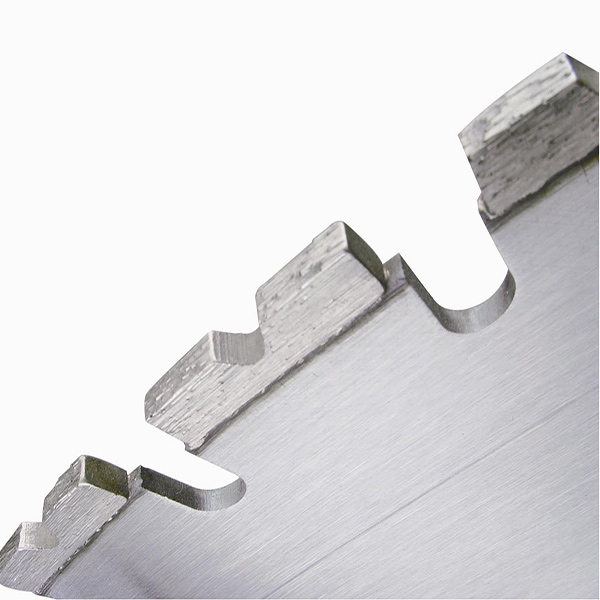 Specifation
| | | | | |
| --- | --- | --- | --- | --- |
| Item Number | Diameter(Inch/mm) | Segment Width(mm) | Segment Height(mm) | Arbor Hole(mm) |
| 18HCWUSB | 18"/450 | 4.8/5.0 | 10 | 50/60 |
| 20HCWUSB | 20"/500 | 4.8/5.0 | 10 | 50/60 |
| 24HCWUSB | 24"/600 | 4.8/5.0 | 10 | 50/60 |
| 26HCWUSB | 26"/660 | 4.8/5.0 | 10 | 50/60 |
| 28HCWUSB | 28"/700 | 4.8/5.0 | 10 | 50/60 |
| 30HCWUSB | 30"/750 | 4.8/5.0 | 10 | 50/60 |
| 32HCWUSB | 32"/810 | 4.8/5.0 | 10 | 50/60 |
| 36HCWUSB | 36"/900 | 4.8/5.0 | 10 | 50/60 |
| 40HCWUSB | 40"/1000 | 4.8/5.0 | 10 | 50/60 |
| 44HCWUSB | 44"/1100 | 4.8/5.0 | 10 | 50/60 |
| 48HCWUSB | 48"/1210 | 4.8/5.0 | 10 | 50/60 |
| 52HCWUSB | 52"/1300 | 4.8/5.0 | 10 | 50/60 |
| 56HCWUSB | 56"/1400 | 4.8/5.0 | 10 | 50/60 |
| 60HCWUSB | 60"/1500 | 4.8/5.0 | 10 | 50/60 |
| 64HCWUSB | 64"/1600 | 4.8/5.0 | 10 | 50/60 |