Which Blade Is Best For Cutting Wood And Why?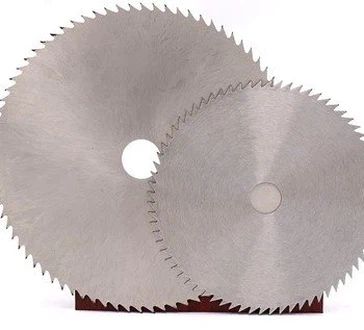 Choosing the best wood cutting blade depends on a variety of factors, including the type of cutting task, the type of wood being cut, the tool being used, and the quality of the finish required. Different blades are designed to perform well in specific applications, and understanding the characteristics of different blade types will help you make an informed decision based on your woodworking needs. Let's explore some of the most common blade types used for cutting wood and their benefits:
1. Crosscut Blades: Crosscut blades are designed to make clean cuts against the grain of the wood. They typically have a higher tooth count and an alternating top bevel (ATB) tooth configuration. Crosscut blades create a smooth surface and minimize tearing along the cutting edge. These blades are ideal for tasks that require precise, splinter-free cuts, such as building furniture, cabinets, and fine woodworking projects.
2. Slitting blade: The slitting blade is optimized to cut along the grain of the wood. They have fewer teeth than crosscut inserts and typically have a flat top ground (FTG) tooth configuration. The rip blade effectively removes material in long, straight cuts, making it suitable for tasks such as ripping sheets of material or making rough cuts for further processing. Larger gullets between the teeth help remove sawdust and prevent overheating.
3. Combination Blades: Combination blades strike a balance between cross-cutting and tearing capabilities. Designed for general woodworking, these versatile blades can handle a variety of tasks. Combination blades typically have a moderate tooth count to provide good finishing quality while still removing material effectively. They are suitable for woodworkers who need a single blade to handle a range of cutting tasks.
4. Plywood Blades: Plywood blades are blades specifically designed for cutting plywood and other engineered wood products. They feature a high tooth count and Hi-ATB tooth configuration that minimizes tearing and splitting on both sides of the plywood. These blades are especially useful when working with materials that chip and splinter easily.
5. Fine Crosscut Blade: The Fine Crosscut Blade is designed for extremely smooth and precise cuts on the grain. These blades have extremely high tooth counts, often over 80 to 100 teeth, and come in a Hi-ATB tooth configuration. Fine crosscut blades are used in applications where the quality of the finished product is critical, such as creating intricate joinery or working with hardwoods that are prone to splintering.
6. Wainscot Blades: Wainscot blades are used to create wide grooves, wainscot cuts and notches in wood. The wainscot blade set consists of two outer blades and multiple inner chippers that can be adjusted to achieve different groove widths. Dadio blades are essential for tasks such as creating strong joints, installing shelves and making grooves for inserts.
7. Specialty Blades: There are a variety of specialty blades available depending on the specific woodworking task. For example, miter saw blades are designed to make precise angle cuts, while band saw blades are used to make curved cuts and resaw cuts. Scroll saw blades are ideal for complex and detailed cuts, while internally toothed saw blades are used for delicate curved cuts.
8. Quality Matters: No matter which blade type you choose, investing in a high-quality blade with sharp teeth and durable construction is crucial. A well-made blade stays sharp longer, produces cleaner cuts, and minimizes the risk of overheating.
In summary, there is no universally applicable "best" wood cutting blade, as the best choice depends on the specific application and desired results. Crosscut blades are great for making clean, splinter-free cuts along the grain, while rip-off blades excel at efficiently removing material along the grain. Combination blades offer versatility, while specialty blades meet the needs of specific tasks. When choosing a blade, consider factors such as the type of wood, type of cut, the tool you are using, and the quality of the finished product you want. By understanding the characteristics of different blade types and matching them to your woodworking needs, you can achieve precise, efficient, and high-quality cuts on a variety of wood projects.